[ad_1]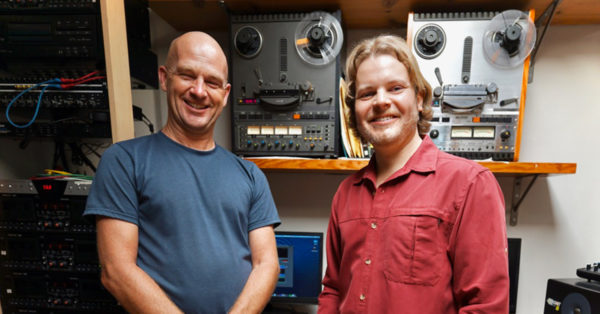 By Tova Green
In conjunction with San Francisco Zen Center, Charlie Wilson and Shundo David Haye launched a project they have been developing for over ten years, the Suzuki Roshi Archive. They have uncovered, restored, and are releasing thirty talks of Shunryu Suzuki Roshi that have not been heard since the 1960s; this increases the size of the archive by ten percent. On October 14 these talks were announced and will be individually presented every two weeks, accompanied by commentaries by Shundo, through the blog on San Francisco Zen Center's website.
The Suzuki Roshi Archive is part of a larger collection of 11,000 talks given at San Francisco Zen Center starting in the mid-1960's. The tapes had been stored in offices and closets at Green Gulch Farm and City Center. At least 275 tapes had been corroded by moisture and had to be dried out before they could be played. This has been a time-sensitive endeavor, as the tapes are degrading year by year.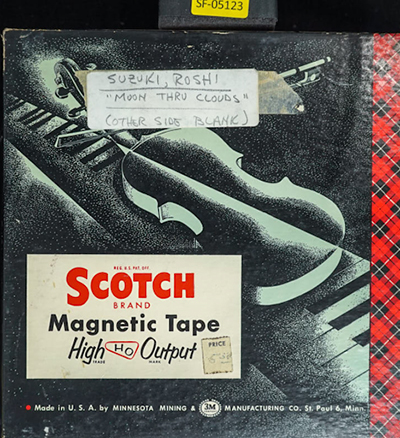 Through the use of improved noise reduction technology, the background noise, which made a number of the original recordings hard to hear, has been lessened so that every talk is more audible. This technology also enhances the question and answer exchange after many talks.
The earliest recordings of Suzuki Roshi's talks were made at Marian Derby's home in Los Altos and at Sokoji temple in Japantown. Marian Derby transcribed the Los Altos talks and Trudy Dixon, a close disciple of Suzuki Roshi, edited and organized them into Zen Mind, Beginner's Mind. A history of the archival efforts over the years can be found on the Engage Wisdom page History of the Shunryu Suzuki Roshi Archive Preservation Efforts.
Some of the original tapes were thought to be lost. In the course of their work, Charlie and Shundo found and were able to restore three of them. Shundo was particularly excited about finding an old reel box that was marked "waterfall/beginner's mind." "Now you can actually hear Suzuki Roshi saying those words," Shundo exclaimed.
Shundo is currently working on Suzuki Roshi's 1969 talks. Some had only partial transcripts. Other recordings sped up toward the middle of the talk, going faster and faster until the words could not be distinguished. Shundo was able to slow them down, so that listeners can now understand what Suzuki Roshi was saying. The Suzuki Roshi Audio Archive Page links to the various categories of new Suzuki Roshi talks and improved audio.
Many of SFZC's classes and Dharma talks are based on Suzuki Roshi's lectures. Teachers are now able to access actual quotes from the restored tapes. As Shundo listens to the earliest talks, he can sense Suzuki Roshi trying to find the right words to express the dharma to his listeners. Abbot Ed Sattizahn and Shundo will teach a four-week class on Saturdays, January 8 – 29, on the first four releases, Awakening the Archive: The Lost Talks of Suzuki Roshi.
Charlie and Shundo each contribute their significant skills to the project. Before coming to San Francisco Zen Center in 2000, Shundo had a long career as an audio engineer at the British Broadcasting Company. He became a Zen priest in order to offer and pass along to others Suzuki Roshi's teachings.
Charlie was a music producer and audio engineer, looking for a way to dedicate his life to the world of Dharma. After college, he studied at Berkeley Zen Center for a few years with Sojun Mel Weitsman and fifteen years ago became a student of Tenshin Reb Anderson. One day at No Abode in Mill Valley, Reb pointed out a closet full of tapes of his Dharma talks and invited his students to take them home. Charlie suggested instead that the tapes be converted to a digital format. He wanted to build a platform for making all of Reb's talks available digitally.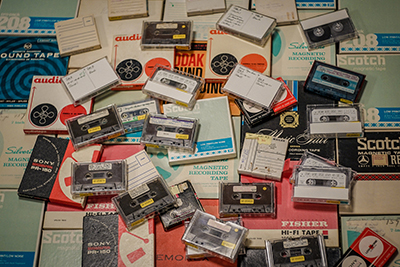 Charlie noted that the Suzuki Roshi Archive project is in keeping with the mission of San Francisco Zen Center: to share the legacy of Suzuki Roshi's teachings with the world. He hopes in time to make available the complete SFZC archive of 11,000 tapes, including talks by visiting teachers such as the Dalai Lama, Gary Snyder, and Ruth Sasaki. He and Shundo are also happy to archive the taped talks of Branching Streams sanghas through Engage Wisdom, the company Charlie founded.
SFZC has received grants and donations to support the first phases of this archive work and through that generosity has been able to begin the process. To support the completion of this archive, fundraising is ongoing and a donation page has been created that is specific to this project.
Non-monetary support is also welcome. This collection of talks is a living, evolving archive that depends on input from people to unlock the wisdom it contains. Several of the newly discovered talks are in need of transcription, and nearly all can benefit from listeners adding descriptions and keyword tags to improve searchability. Visit the Suzuki Roshi Audio Archive page to explore various ways to engage.
[ad_2]