[ad_1]

Dear Friends,
Late summer and autumn weather are coming to the Inland Northwest. The cool mornings and evenings, and (at last) rain, are welcome after the record-breaking heat this summer.
We've had another bumper crop of plums this year. Some apples are even ready to eat, although we usually harvest them after the first frost, which brings out their sweetness.
See photos of monastics having fun in September here.
Bhikshuni Thubten Chodron & the Sravasti Abbey Community
Perfection of Generosity Retreat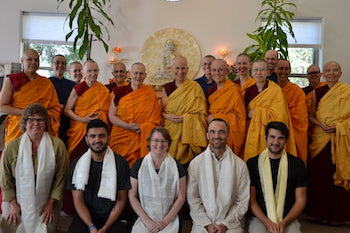 Due to the outbreak of the Delta variant, we had to limit the number of guests for the retreat on the Perfection of Generosity that was held over Labor Day. But that didn't dent the enthusiasm and involvement of those who attended. See photos here.
Ven. Chodron usually teaches this topic using texts from the Tibetan tradition, but this time she decided to use Nāgārjuna's Exegesis on the Great Perfection of Wisdom Sūtra, which is found in the Chinese canon. After defining generosity and speaking of various types of generosity, Nāgārjuna discusses pure and impure motivations for giving.
This inspired a lot of self-reflection as we were called to be honest about why we give: is it to gain someone's favor, to make them feel obliged to us, to pressure them into doing what we want, to look good in front of others, to be praised, or to receive something in return? Or do we give with a pure motivation of simply wanting to share, to spread joy, or to fulfill others' needs with no strings attached?
Nāgārjuna's exegesis also contains several stories about the generosity of people who appreciated the Buddha's teachings and wanted to receive them. This made us reflect on the importance of the Dharma in our lives. How would our lives be now if we had not encountered the Buddha's teachings, or if we lived in a place without Dharma teachers or fellow practitioners, such as the monastic community, who encourage us on the path and with whom we can practice together? There was a lot of good sharing in the discussion groups, and everyone came away inspired.
Watch the archived teachings and meditations here.
Buddha Hall
Since the Buddha Hall is considered a commercial building and our county doesn't have a lot of commercial buildings, our building plans need to be assessed by an external code reviewer. After looking over all the (minute) details, the reviewer wrote a list for Tim, our architect, to work on.
Tim will review the list and forward portions to the design consultants and engineers for their items. Tim said this usually takes some time, and anyone who has applied for the building permit for a large building or worked with building inspectors knows this is true.
Peter, the sculptor in France, continues his work on the statues for the main altar. Tenzin, the artist in Dharamsala who is painting a thangka of Manjusri for the main altar, sent us a line drawing. Watch this video that shows how he paints each thin line so carefully, with great skill.
In mid-September, John Young, the general contractor for the Buddha Hall, came out to supervise the excavation of three test pits to determine the suitability of the soil for the drain field and three more test pits to ensure that the soil composition at the revised location of the Buddha Hall is suitable to build on. The health inspector also came out to get soil samples to ensure that the soil composition will support successful drainage.
We will know the official results of these test pits soon. John indicated that both the soil composition at the Buddha Hall site and the composition of the soil for the drain field are suitable for what we intend to build.
A friend in Lithuania wrote us after receiving the update on the Buddha Hall last month. She said, "I really believe it will be a place that transforms people's minds. I know for sure mine has been transformed by being at the Abbey, so adding a temple will increase the impact of the positive experience."
Geshe Dadul Teaches on Compassion
The Abbey community and all the online participants who joined us were delighted to hear Geshe Dadul Namgyal teach on "108 Verses Praising Great Compassion," an inspiring poem by Venerable Lobsang Tayang. The root text is here.
Teaching for three hours every afternoon for six days, Geshela took us from Candrakīrti's discussion on the three types of compassion to Dharmakirti's explanation showing the Buddha is a reliable object of spiritual refuge due to his great compassion. He extensively explained rebirth to show that great compassion can be developed in one life after another, until all self-centeredness and self-grasping have been removed from our mind.
The teachings were interspersed with laughter and included Q&A at the end of each session. Watch the teachings here.
Medicine Buddha Puja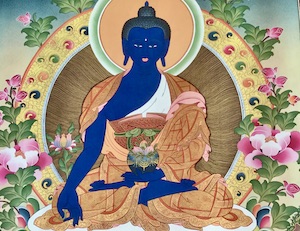 Each month, the Abbey does a Medicine Buddha Puja in which all merit is dedicated for healing—the healing of people, animals, and the environment. Many people send in requests for particular individuals, whose names we read when dedicating the merit.
In September, 120 people requested prayers for loved ones or themselves, and about half that number attended the puja online with us. In these times of Covid, Medicine Buddha provides comfort and optimism and supports us in accepting the situation and learning whatever we can from it.
Join us for the next Medicine Buddha Puja on October 10. Learn more about it here.
Friends of Sravasti Abbey
We had two gatherings with Friends of Sravasti Abbey (FOSA) Singapore and Malaysia. In the first, they formally offered food for the community. Their offering commenced in early-August and extends into October.
We were so touched by their generosity and how many people came together to offer lunch dana for six weeks. People got their whole families involved in this and everyone was joyful doing the formal food offering prayer on Zoom. Read the prayer for offering food to the sangha and the sangha's response here.
The second gathering was to wish Ven. Chodron a happy 71st birthday. Here, FOSA Indonesia joined in. Ven. Chodron has known some of these students since she first went to Singapore in 1987 to be the resident teacher at Amitabha Buddhist Centre.
Many of the people on the call were college students at that time and some of them now have kids in college. Other people have joined since then, forming a harmonious group of Buddhists. There's a growing group that follows the Friday evening teachings on Saṃsāra, Nirvāṇa, and Buddha Nature at the Abbey, which is on Saturday morning in Southeast Asia. Ven. Chodron was very moved to see them on Zoom and share the Dharma together.
Watch Ven. Chodron's Bodhisattva's Breakfast Corner talk on what she's learned from her birthdays here.
Help to Feed the Hungry
Generosity is one of the Abbey's founding principles, so we are happy to again support Buddhist Global Relief (BGR) in their annual Buddhist Action to Feed the Hungry. Learn more about BGR here.
In 2021, an estimated 11 people die every minute from hunger-related causes; that's more than die from Covid-19 at about seven per minute. Nearly a billion people around the world go hungry every day.
BGR seeks to address the underlying causes of this heartbreaking situation through direct food aid, education, and sustainable development. The Abbey invites your help for their wonderful work. Make an offering here.
BGR will host two Buddhist Action to Feed the Hungry events online. Along with BGR founder Ven. Bhikkhu Bodhi and other Dharma teachers, Ven. Chodron will speak at the West Coast event on Saturday, October 2 from 1-3 pm Pacific Time. Register for it here. There's also an East Coast version on October 30.
Learn more in this article, "Buddhist Action to Feed the Hungry" or watch Ven. Chonyi's Bodhisattva's Breakfast Corner talk here.
New Book!
Sravasti Abbey has just published its first children's book! Entitled Gavin Discovers the Secret to Happiness, it was authored by Al Ramos, an incarcerated man and an excellent Dharma practitioner with whom Ven. Chodron has been corresponding for years.
Our Dharma friend Miguel Rivero did colorful and beautiful illustrations that complement the story very well. The story is about a lively puppy who learns that friendship and kindness are much more important than having lots of toys.
You can order the book on Amazon here, and there's a page about the book on Ven. Chodron's website. You can watch a video about the book too.
Outreach
Vens. Damcho and Rinchen spoke with students from the World Religions course at North Idaho College (NIC) via Zoom. Professor Laura Templeman regularly invites Abbey monastics to visit during the Buddhism portion of the course. The students asked many questions about what monastics do, how we practice, the significance of our robes, and outreach to incarcerated people.
The students will have another chance to ask questions when Ven. Chodron gives an online public talk November 2nd on "Science and Technology in Service of Society." It's on Zoom and hosted by the NIC Diversity Council. Learn more about the talk here.
Ganden Shedrub Ling in Puerto Rico continues to host Ven. Nyima's lojong class in Spanish, with participants from Puerto Rico, Costa Rica, Chile, the US, and Colombia. This month the group reviewed one of the methods for generating conventional bodhicitta and felt inspired by this beautiful altruistic mind. They also laughed at the absurdities of the self-centered thought.
An Outing at the Lake
After completing the three-month "snows retreat" (varsa), the Vinaya texts on monastic life say that the sangha should leave the monastery to connect with the surrounding community. The Abbey sangha normally does this the day after completing varsa, but that was not possible this year due to Covid.
So a few months later, we went on an afternoon outing to Priest Lake, one of the most pristine lakes in Idaho, about an hour's drive from the Abbey. The water was exceptionally clean and clear. Nearby, there was also an old-growth cedar forest with trees over 400 years old. It took at least five of us with stretched arms to surround some of the trees!
This was a wonderful reminder of the natural beauty and majesty we all cherish and wish to protect. The outing gave us the opportunity for recreation and community building before happily returning to the Abbey.
The Forest
Four dedicated volunteers came to September's Offering Service Saturday to help us with fire mitigation. The meadow behind the Sravasti Abbey sign has many trees that needed to be limbed and other dead ones that needed to be cut down. They cheerfully worked in the rain (wow!) and made visible progress. See photos here.
Abbey residents are continuing this project and volunteers can join in on Offering Service Saturdays that continue through the fall, focusing on fire mitigation in the lovely Abbey forests. Folks must be fully vaccinated and bring masks for social distancing when needed. Lunch is provided by the Abbey community.
Offering Service Saturday dates are October 2, 1-5 pm; and October 9, 16, and November 6, from 9 am-4 pm. Write to semkye [dot] sravasti [at] gmail [dot] com to learn more and sign up.
Meanwhile, some of the nuns are clearing dead trees from the Bodhisattva Loop in the forest and having a good time at it. They've created quite a "mess" with piles of small dead trees that we'll have to burn before winter, but after the burn prohibition has been lifted in our county.
Meanwhile, as we do every autumn, we gave the winter's supply of wood to Nena, an elderly woman who lives alone, not far from us.
More News
Due to the spreading of the Delta variant, the Abbey has had to close again. However, we are accepting vaccinated people who would like to visit for two weeks or more. Please contact the office for details.
Ven. Sangye Khadro reflects on where our happiness comes from and how to live happier lives in "Four Kinds of Happiness," an episode on the podcast, A Skeptic's Path to Enlightenment. Listen to it here.
The interfaith podcast, Come Pray with Me, interviewed Ven. Chonyi last January about life in a Buddhist monastery. Listen to the recently-posted conversation, "Cultivating Peace in Chaotic World," here.
Ven. Chonyi responds to the question, "Do Buddhists Pray?" on the Spokane FāVs interfaith news site. Read it here.
Ven. Nyima's article, "Consejos Para Un Rey," has been published on Buddhistdoor in Spanish here. She'll be contributing articles there once every three months. Read the article, "Buddhist Advice for Ruling a Kingdom," in English here.
Our weekly classes continue; you're welcome to join them on Livestream or view them when they're archived. This month, in preparation for Geshe Thabkhe's teachings on chapter 2 of Dharmakirti's Pramanavartika in October, Ven. Sangye Khadro has been giving some review classes of the material he covered last year.
Upcoming Events
Here's what's happening online in the next few weeks.
Plus regular ongoing teachings:
Library of Wisdom and Compassion with Ven. Thubten Chodron, on Zoom every Wednesday, 4 pm Pacific Time/ 7 pm Eastern Time through November 10. –

New series!

El Adiestramiento Mental with Ven. Thubten Nyima, on Zoom every other Wednesday, 4 pm Pacific Time/ 7 pm Puerto Rico Time.
Lam Rim: Study, Reflect, Meditate with Ven. Sangye Khadro, on Zoom every Thursday, 8:15 am Pacific Time/ 9:15 am Mountain time through November 18.
Engaging in the Bodhisattva's Deeds with Ven. Thubten Chodron streamed live on Thursday mornings, 10 am Pacific Time.
Samsara, Nirvana, and Buddha Nature with Ven. Thubten Chodron streamed live every Friday night, 6:15 pm Pacific Time.
Check the Abbey Events page for much more
[ad_2]