[ad_1]

Dear Friends,
As the weather warms up and our garden begins to bloom, the Abbey bustles with activity outdoors, indoors, and online with our programs back in full swing.
The community spent a full day doing spring cleaning and still didn't complete all there was to do. However, we did re-organize several storage areas and closets, which reaped many large bags of extra shoes, clothing, blankets, and other useful items that we donated to our local Youth Emergency Services and Goodwill charities.
Many of the monastics also donated their stimulus check funds to a variety of charities. Giving and sharing our fortune brings happiness to our minds and to others!
See photos of Abbey life in Spring here and of our Spring activities here.
Bhikshuni Thubten Chodron & the Sravasti Abbey Community
Samsara, Nirvana, and Buddha Nature
Week-long Course
For seven days, over 100 people enjoyed the online course on His Holiness the Dalai Lama and Ven. Chodron's book, Samsara, Nirvana, and Buddha Nature. The course included two Dharma talks, two meditation sessions, and discussion groups each day. Watch the archived meditations and teachings here.
The principal topic was the Buddha's first teaching on the four truths of the aryas, which forms the framework for the entire path to liberation and full awakening that he subsequently set forth.
Each of the four truths has four aspects that overcome four distorted conceptions regarding that truth. Studying these brings to light and then dispels our many misconceptions—such as seeing what is impermanent as permanent, what is suffering as pleasure, what is foul as beautiful, and what lacks a self as having one.
All of the discussion group facilitators said the participants' comments were thoughtful and that people really took the teachings to heart. See photos here.
Teachings Continue
Ven. Chodron continued teaching on the book in two weekend talks on the same title, requested by Vajrayana Institute in Sydney, Australia. These talks centered around impermanence, duhkha, emptiness, and selflessness. Ven. Chodron also spoke of our human potential to overcome samsara and attain not only liberation from samsara but also buddhahood, a state in which we can most effectively benefit self and others.
Ven. Chodron's commentary on Samsara, Nirvana, and Buddha Nature will be posted in sequence here on our YouTube Channel. Tune in live as she continues to give weekly teachings on the book on Fridays at 6:15 pm Pacific Time on Vimeo Livestream here.
Pravarana
A "central land" is a place where there is a sangha of either four or more bhikshunis or four or more bhikshus, who perform the three principal monastic activities in addition to giving ordination—the fortnightly confession and restoration of precepts (posadha), the rains retreat (varsa), and the invitation for feedback (pravarana). Living in a central land is one of the conditions to have a precious human life, one that has all the freedom and fortune to learn, contemplate, and meditate on the Dharma.
For many years now, the bhikshuni sangha at Sravasti Abbey has done these three practices. We just completed the annual rains retreat that we do in the winter as a "snows retreat," which concludes with the invitation for feedback. Because harmony is stressed during the varsa, we don't give one another feedback during that time.
Before the pravarana, everyone has a chance to confess and apologize to the group and to request any wise counsel the group would like to give. This takes several hours, and is then followed by the formal pravarana ceremony. After the ceremony, everyone feels very happy, not only because the sangha is harmonious, but also because we have succeeded in making this a central land. See photos here.
The day after the pravarana, the sangha is supposed to go on an outing outside the monastery. Due to Covid, we took a walk around some nearby land and returned to the Abbey for a pizza lunch. In the afternoon, the community watched a documentary on how women got the vote. Those ladies were strong and determined, and we have opportunities now because of the efforts they made. The day began and concluded with our usual meditation sessions, and the next day we returned to our usual schedule.
Kathina and Volunteer Celebration
At the Buddha's time, monastics' robes were torn, wet, and smelled of mildew after the rains retreat, so the Buddha established the tradition of lay followers offering new robes and other necessities to the sangha after the pravarana.
The "kathina" is the robe of merit offered to a monastic whose precepts are pure, and the ceremony is named after this robe. This year the Ong family from Malaysia and Friends of Sravasti Abbey Singapore offered the kathina robe over Zoom—the first time we've ever done the ceremony like this!
The Zoom call also enabled Abbey monastics to thank all our international supporters and especially our local American friends who went shopping and offered food to us during winter retreat. We are so grateful as well to all the volunteers who serve the Abbey from home by editing audio and video teachings, updating our web platforms, proofreading written materials, and so much more. Without all of your help, we wouldn't be able to propagate the Dharma widely or have time to do our study and meditation practice.
Watch the celebration that was also livestreamed on YouTube here.
Extensive Outreach
Sravasti Abbey nuns have received multiple requests from both domestic and international Buddhist groups and secular schools to give talks and courses or to lead retreats.
Ven. Chodron gave online talks on:
"Does Ethics Matter in Science and Technology?" for North Idaho College. In this thought-provoking talk she asked us to think about ethics in relation to our use of information technology, medical research, cloning, research to split the atom, and more. Watch the talk here.
"Life After the Pandemic: It All Depends on Us" to several Dharma groups in Singapore and Malaysia. Topics included the difficulties some people are experiencing with the change in lifestyle and how we can arise to the occasion to transform these difficulties and avoid depression or despair. Watch the livestream here.
A Q&A session with students at Institut Vajra Yogini in France. They had broadcast videos of the course she taught last year on "Parting from the Four Attachments" with French translation. View the series here and watch the Q&A session here.
Ven. Sangye Khadro was active teaching:
A lamrim class. Every Thursday morning since April 1, between 30-40 people (including 12 Abbey residents) have joined her in an exploration of the lamrim—the stages of the path to enlightenment—based on the text The Easy Path by the First Panchen Lama. These are organized by Thubten Norbu Ling Buddhist Center in Santa Fe, New Mexico. Watch the recordings here.
Monthly meetings with the Sandpoint Sangha in nearby Sandpoint, Idaho. They are continuing where they left off last year in chapter six of Shantideva's Engaging in the Bodhisattva's Deeds, learning how to apply these precious teachings on the bodhisattva path in our daily lives.
A meditation class for Maitripa College on Friday mornings. The current topic is bodhicitta, and the students have been meditating on the seven-point cause and effect method for developing bodhicitta. These points have generated many interesting questions!
A class on "Introduction to the Study of Religion" at Western Washington University. The students had spent several weeks learning about women in Buddhism and appreciated the opportunity to meet a woman who is a long-term practitioner. After hearing Ven. Khadro's short talk on how she became interested in Buddhism and what her life has been like, they asked many questions about monastery life, how Buddhism is changing in the modern world, and so on—more than she could answer in a 45-minute class!
More College Connections
Ven. Samten met online with a student at Hamline University in Minnesota to answer questions for a paper she is writing on Buddhism. The conversation flowed easily between them given that both Sravasti Abbey and Hamline University value diversity; everyone is welcome and everyone has the capacity to learn and eventually make valuable contributions to benefit all!
Ven. Damcho participated in an online class on "Buddhist Meditation and Practice" at Gonzaga University. She responded to students' questions on how Sravasti Abbey has been helping people through the dual pandemics of Covid and racism, her experience as a woman in the Buddhist community, and the changes in her lifestyle and goals after ordination. The opportunity to connect with curious college students is always delightful, and we look forward to the time they can visit the Abbey in person again.
Sharing the Dharma Day
Our monthly Sharing the Dharma Days started up again on the first Sunday in April. Ven. Khadro led a meditation on compassion in action, which you can watch here.
Ven. Chodron continued teaching from the book An Open-Hearted Life, which she co-authored with psychologist Dr. Russell Kolts. Based on the chapter "Reaching Out with Compassion," she discussed how to counteract our "pity parties" in which we are sucked into the vortex of feeling sorry for ourselves and blaming others for our misery. Flipping the object of our attention to consider the lives, situations, and feelings of others pulls us out of our self-centered misery as we connect with others and see that we can contribute to their happiness and well-being. Watch the talk here.
The Zoom discussion group that followed in the afternoon expanded on this theme. Sharing in this way is a form of reaching out to others with compassion and lets everyone feel understood while also hearing and supporting others.
Join us for our next Sharing the Dharma Day on May 16. Learn more about it here.
Together, We'll Build the Buddha Hall
The Buddha Hall committee completed the architectural and engineering plans and have met with our contractor, John Young, and architect, Tim Wilson, to go over them in detail. Now John will put together a final estimate and we'll apply for building permits.
If all goes well, we will break ground in June of 2021!
Meanwhile, the Buddha Hall Jumpstart Challenge is well on its way. As of April 30, generous donors have contributed over one-third of the $250,000 challenge goal! July 14 is the deadline. See Ron's delightful video about how "Together, We'll Build the Buddha Hall" and add your support.
In addition, dozens of meditators participated in the Mantra Marathon on April 3. In six group sessions held over Zoom, we shared in the Shakyamuni Buddha meditation practice, accumulating over 70,000 recitations of the Buddha's mantra in one day. Go here to join in.
Earth Day Events
Ven. Jampa participated in an Earth Day "Virtual Vigil for the Healing of the Earth," organized by Faith Leaders and Leaders of Conscience of Eastern Washington and North Idaho. Her talk encouraged the audience to stay centered in their spiritual refuge when faced with adversities while advocating for environmental action.
Participants listened to local communities, especially the Spokane Tribe, share how they have been affected by ecological devastation, and learned new ways to engage in environmental protection. Watch the recording here.
Ven. Chodron recorded a talk for the Italian Buddhist Union and for a Buddhist Earth Day celebration in Russia. Watch Ven. Chodron's Earth Day message here. A recording with Russian subtitles is here.
Abbey monastics also gave Bodhisattva's Breakfast Corner talks on environmental issues. Watch Ven. Dekyi's talk on "Reduce, Reuse, and Recycle" here and Ven. Jampa's talk on environmental feedback loops here.
Read His Holiness the Dalai Lama's Earth Day message here.
Retreat from Afar
The Abbey began to do three-month winter meditation retreats in 2004-05, a year after we moved in.
The idea was born then to have a Retreat from Afar so that people who were unable to do the full retreat with us at the Abbey could join us by doing one session every day and studying the teachings that were given here. And since Ven. Chodron was corresponding with many people in prison, we opened the retreat to them as well; they took full advantage of the opportunity.
This year approximately 427 joined the Retreat from Afar; 170 of them did the retreat in prison, where conditions are far from ideal. We rejoice at the wonderful merit that all of you created!
Medicine Buddha Puja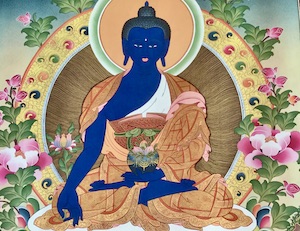 Sixty people signed in for the April Medicine Buddha puja online. This last month seems to have been particularly filled with violence, making the puja yet another sober but hopeful Dharma sharing.
Participants requested prayers for the victims of mass shootings and policing as well as for their friends, family members, and the three million-plus who have died of Covid worldwide.
Our next online Medicine Buddha puja is May 23. Learn more and register here.
Interfaith Engagement
After a four-month hiatus for winter retreat, Ven. Semkye rejoined the local Newport Interfaith Group that meets every month on Zoom. The group has been reading The Book of Joy by His Holiness the Dalai Lama and Archbishop Desmond Tutu and sharing their insights.
As the group reads chapters on difficult emotions such as fear, despair and loneliness, Ven. Semkye has been inspired by their receptivity to Buddhist views such as how our minds are the source of happiness and pain, and the powerful taking and giving meditation practice (tonglen).
More News
Advice for Dharma Practice
Ven. Chodron's commentary on the first Dalai Lama's prayer to Tara to protect us from the eight dangers was published in Lion's Roar Magazine. Read it here.
Making decisions can be confusing. Read Ven. Chodron's advice on the criteria for making wise decisions here.
Ven. Jigme, who was a healthcare professional before ordaining, discusses how to make difficult healthcare decisions for a loved one and how making an advance directive will avoid much of that difficulty. Read her advice here.
Ven. Nyima shares about learning to listen to her body as she deals with recurring migraines. Read her reflections here. Born in Colombia and fluent in Spanish, Ven. Nyima also added to the Spanish section of ThubtenChodron.org with an article on "The Power of Our Words." Read it here.
Ven. Tsepal responds to a Spokane Faith and Values' reader's question, "What is Duhkha?" Read her answer here.
Social Engagement
Al, one of the inmates we correspond with, tells us about the prison labor system in his state. A company contracts with the state, the incarcerated people work in the factory on prison grounds, but they are paid only 34 cents an hour for their labor. Read his account here.
A National Buddhist Memorial Ceremony for Asian-American ancestors will be held online on May 4, 4 pm PDT, 49 days after the shootings in Atlanta. The Abbey is an ally partner sangha in this effort to remember and heal from anti-Asian hate crimes. Learn more about the event here.
Monastic Life
Ven. Sangye Khadro wrote about the full ordination for women (bhikshuni)—its history, the way the ordination ceremony is done, and the benefits of bhikshuni ordination. Read her essay here.
The monastic sangha has a system of seniority based on when we were ordained. People who were raised to value political equality often have difficulty adjusting to this (even though there is no oppression or injustice involved in monastic seniority). Ven. Pende shares how she came to see the value of this system in monastic life. Read her reflection here.
Our Theravada friends have set up a website especially for monastics (but open to everyone to read). Read Ven. Chodron's reflections on "Eye in the Storm: Why Monastics Matter in the Modern World" here and hear a podcast of her talk on "The Eight Worldly Concerns" here.
New Translations
Ven. Chodron's book Good Karma was translated into Chinese and is available from Oaktree Publications in Taiwan. Order it online here.
The shorter Amitabha Sutra translated from Chinese by Ven. Damcho can be read here.
Upcoming Events
Here's what's happening online in the next few weeks:
May 1-2: Peaceful Living, Peaceful Dying with Ven. Sangye Khadro
May 7-9: Intro to Tantra with Ven. Sangye Khadro. Hosted by O Sel Ling Retreat Center, with simultaneous translation into Spanish.
May 8: Living a Happy Life—Covid or Not with Ven. Thubten Chodron, 7 pm Pacific Time/ May 9, 10 am Singapore & Malaysia Time. Hosted by Friends of Sravasti Abbey Singapore and Malaysia.
May 12: Buddhism: One Teacher, Many Traditions with Ven. Thubten Chodron, 10 am Pacific Time. Hosted by Friends of Sravasti Abbey Russia and Ukraine, with consecutive translation into Russian.
May 16: Sharing the Dharma Day
May 18: What Is Buddha Nature? with Ven. Sangye Khadro, 6 pm Pacific Time. Hosted by Tse Chen Ling, San Francisco.
May 19: Approaching the Buddhist Path with Ven. Thubten Chodron, 10 am Pacific Time. Hosted by Friends of Sravasti Abbey Russia and Ukraine, with consecutive translation into Russian.
May 23: Medicine Buddha Puja
May 29-31: Memorial Day Weekend Retreat: Good Karma with Ven. Thubten Chodron
Plus regular ongoing teachings:
Meditation 101 with Ven. Sangye Khadro, streamed live on Monday evenings, 6 pm Pacific Time, May 3-31.

— New series!

Lam Rim: Study, Reflect, Meditate with Ven. Sangye Khadro, streamed live on Thursday mornings, 8:30 am Pacific Time, through May 20.
Engaging in the Bodhisattva's Deeds with Ven. Thubten Chodron streamed live on Thursday mornings, 10 am Pacific Time.
Samsara, Nirvana, and Buddha Nature with Ven. Thubten Chodron streamed live every Friday night, 6:15 pm Pacific Time.

— New series!
Check the Abbey Events page for 2021 schedule updates
[ad_2]