[ad_1]

Dear Friends,
You may have heard in the news that the Pacific Northwest is having a record-breaking heat wave. We're right in the middle of it! Temperatures are and will be over 100F (40C).
We're thankful to have air conditioning in some of the buildings and have altered our daily schedule to work outdoors in the evening when it is a little cooler.
We rejoiced at welcoming our first in-person guests for Sharing the Dharma Day a few days ago. The number was limited and vaccinations are required, so we were all safe and delighted to be together again. We'll tell you more about it in the August eNews.
See photos of our lively springtime here and a wealth of summer activities here. Enjoy photos of the colors of summer at the Abbey here.
Bhikshuni Thubten Chodron & the Sravasti Abbey Community
Good Karma Retreat

Over the long Memorial Day weekend, more than 80 people online and 19 at the Abbey delved into Good Karma: How to Create the Causes of Happiness and Avoid the Causes of Suffering. The book is a commentary by Ven. Chodron on the thought training poem, "The Wheel of Sharp Weapons," by the 9th century Indian master Dharmarakshita.
As Tibetan teachers often do, Ven. Chodron read from the book and then added comments on some topics and elaborated on others, giving examples of how to practice the Dharma in our daily lives. There were two teaching sessions, two meditation sessions, and a discussion group each day. Watch the edited teachings here.
People were very interested in karma and its effects and asked many questions about it. The law of karma and its effects emphasizes that our actions have an ethical dimension. What we think, say, and do has short-term and long-term effects that influence what we experience.
Learning about karma—our actions—challenges us to examine our intentions and motivations. By applying mindfulness and introspective awareness, we keep our minds focused on virtue and away from distraction, anger, attachment, and confusion.
In addition to giving an overview of the Buddhist worldview, Ven. Chodron explained the first five verses of the poem. Teachings on this text will continue next Memorial Day weekend. See photos here.
Young Adults Explore Buddhism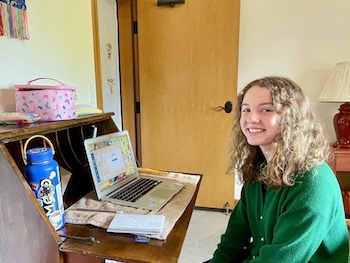 About 16 young adults from ages 17 to 29 attended the Abbey's annual Young Adults Explore Buddhism program. Although it was held for just four days online, this interested and earnest group participated actively and learned everything they could.
Ven. Chodron gave Dharma talks and Ven. Sangye Khadro led meditations. Several other monastics guided the lively discussion groups where participants talked about their values and thoughts about life. Dr. Russell Kolts was a guest speaker at one session, and as usual was a big hit with the youths.
Everyone had a good time and expressed their wish to continue learning the Dharma and getting to know one another. One participant commented at the end of the course, "We haven't gotten to speak to each other so much, but we already feel like family." We'll post the guided meditations from the course soon on ThubtenChodron.org and Sravasti Abbey's Insight Timer profile. Watch recordings of past years' teachings here.
Know Your Mind—Part 1
Ven. Sangye Khadro led a weekend retreat on "Know Your Mind"—a simplified version of a topic studied in monasteries called Lorig (Mind and Awareness). She explained the nature of the mind or consciousness and the different types of cognitions, such as perception and conception, and the seven types of awareness.
With the help of PowerPoint slides and practical examples, Ven. Sangye Khadro made a complex topic accessible to beginners and experienced students alike.
Abbey monastics guided meditations and led discussions on identifying the difference between perception and conception in our own experience, especially because our afflictions are all based on wrong conceptions.
Watch the teachings and guided meditations here. Part two of this retreat will take place from August 21–22. Find info here.
The Buddha Hall

Due to your kindness and generosity, we met the Buddha Hall Jumpstart Challenge nearly a month before the deadline! Thank you to all those who made offerings to build the Buddha Hall. It will be wonderful to practice together with you once it is built. Watch Ron's wonderful rejoicing video.
The project is moving forward. We've moved the location of the Buddha Hall up the hill a little to a much better location. To adjust to the change, our architect has re-drawn the two required accessible parking spaces.
Next, the civil engineer will do the grading—there is a lot of dirt to move when a building is located on a hillside. We're hoping he will locate the septic system in a more convenient place, too.
We're still involved in the permitting process, which is complex because this is considered a commercial building, not a residence. Our acoustician Scott Pfeiffer came by to visit on a "working vacation" trip and had a look at the new site as well. Ven. Chodron gives a short video report here.
Meanwhile, the log cabin at the end of the garden has been dismantled to make way for a cabin for Ven. Sangye Khadro. Our neighbor is a contractor; we're giving him the material of the cabin in return for removing it and fixing some steps in the garden. He had a team of young men who worked hard in the heat to do this. See photos here.
Conference on the Fragility of the Planet

The Italian Buddhist Union organized an online conference on "Impermanence: Crisis of the Being, Fragility of the Planet" in celebration of Vesak Day. Ven. Chodron offered a pre-recorded Dharma talk on the importance of taking responsibility for the environment.
Ven. Jampa participated live and gave a short talk on how monastic life provides a strong model for living in harmony with the environment through the practices of nonviolence, compassion, and interdependence.
The program included a variety of speakers, such as Zen teacher and author David Loy, who encouraged people to tackle climate issues as part of the bodhisattva path. A beekeeper and a sea shepherd highlighted how humans cannot survive without bees and whales. Richard Gere weighed in on the importance of radically engaging with one another to make an impact on the economy and government policies. Watch the recording here.
Outreach
Talks by Ven. Chodron
Dr. Jennifer Ghahari from Seattle Anxiety Specialists, interviewed Ven. Chodron asking, "Why do people get anxious? How does anxiety function in our minds? Can meditation help them release anxiety? And what other methods does Buddhism teach that can help people to avoid getting anxious?" They had a very interesting discussion that both Jennifer and the volunteer who transcribed the interview said was personally helpful. Watch the video and read the transcript here.
Since Courageous Compassion, the latest volume of The Library of Wisdom and Compassion was recently released, there have been requests for Ven. Chodron to speak about it. She gave a talk about the book's contents and shared a few choice selections on the bodhisattvas' amazing practices with an online audience from East West Bookstore in Seattle. Watch the talk here.
To launch the Italian translation of Approaching the Buddhist Path, Ven. Chodron gave a talk on "21st Century Buddhists" organized by publisher Nalanda Edizioni. She touched on chapter 12 of the book about engaged Buddhism and took questions from Zen priest Rev. Doju Dinajana Freire and president of Sea Shepherd Italy Andrea Morello. Watch the talk with consecutive translation into Italian here.
Teachings by Ven. Sangye Khadro
Ven. Sangye Khadro is teaching a weekly series on "The Wisdom of Ultimate Truth" for Root Institute in India. Register here. Following His Holiness the Dalai Lama's example, she began with a brief introduction to the four truths of aryas and the two truths. She then explained the different levels of emptiness or selflessness. Participants are mostly Indians, but also include people from other countries. Watch previous teachings here.
Teachings for the Sandpoint Sangha continue on Chapter 6 of Shantideva's Engaging in the Bodhisattva's Deeds. This month, Ven. Sangye Khadro explained how anger can arise due to attachment to praise, honor, and wealth. Shantideva advises us to realize that such attachment is an obstacle to our liberation, so someone who helps us overcome it actually helps us. His well-known verses exhort us to realize that just as a beggar is not an obstacle to practicing giving, an assailant is not an obstacle to practicing fortitude—on the contrary, we actually need such people! Connect with the Sandpoint Sangha here.
Ven. Sangye Khadro gave a second talk on buddha nature organized by Tse Chen Ling in San Francisco. Register here to access the talks. She also taught a weekend course on "How to Meditate" for Centro Shiwa Lha in Rio de Janeiro, Brazil, with simultaneous translation into Portuguese. About 70 people joined and learned the basics of meditation—both stabilizing and analytical. Hopefully what they learned will enable them to cope better with the dreadful effects of the pandemic in their country. Watch the talks here and here.
Talks by other Abbey nuns
Ven. Chonyi traveled to Spokanefor a live interfaith panel on "The Effect of Technology in Faith Communities" withthe online religion news publication Spokane FāVs. She joined Christian software developer Ben Backstrom, FāVs founder and religion journalist Tracy Simmons, and a small crowd of masked and socially distanced guests. Read Ben's thoughtful critique on the interplay between technology and religion here. The discussion was streamed on Facebook: watch it here.
Ven. Nyima's Lojong class in Spanish continues every other Wednesday from 4 to 5:30 pm Pacific Time. Some Dharma students from Costa Rica joined in this month as Ven. Nyima reviewed the topic of precious human life and the resolve to not waste it. This topic couldn't be more relevant as many countries in South and Central America are in the midst of anotherwave of Covid. Learn more about the class here.
Abbey nuns continue the weekly meditation class associated with the Spokane UU churches on Zoom.
The Forest and Meadows

The Abbey grounds are very beautiful in the spring and summer, with many wildflowers and flowering trees. It's so relaxing and beneficial for the body and mind to walk in nature.
For more than ten years, we've cultivated a warm and friendly relationship with the staff of the Pend Oreille County Weed Board. Each year, someone from their team comes out to take a look at what kinds of noxious and invasive weeds we're dealing with.
The support and advice that we've received from Sharon Sorby, Loretta Nichols, and Dyana Adams have enabled us to identify weeds and remove them through best practices informed by research done by Washington State University.
Ven. Semkye and her team have also been working hard in the forest. Last autumn, some volunteers cut many trees that were either crowded together or dead, and a lot of cleanup remains to be done. A new wood splitter helps cut up much of the wood to use to heat Ananda Hall in the winter, and we will share some with our neighbors too.
There's also been another construction project this summer—Ven. Losang built a shed to store the firewood! He used wood and roofing that had been stored in the barn, which saved a lot of money. Several volunteers helped him at important points in the construction.
More News
Mindfulness is the latest craze that's supposed to help us relax and reduce stress. What does it have to do with Buddhist practice? Read Ven. Chodron's article on the difference between secular mindfulness and Buddhist mindfulness here.
You can now watch Ven. Chodron's talk for The Buddhist Channel in Indonesia on "Who's Responsible for My Suffering?" here.
Many years ago, His Holiness the Dalai Lama wrote a poem "The Joy of Monastic Discipline." Stephen Taul made a chanted version that you can listen to here. The audio and video appear below His Holiness' text.
Ven. Tenzin Tsepal shared about her experience receiving the bhikshuni precepts in Taiwan in 2019 when she visited Luminary Temple after the full ordination program. Watch her talk here.
Several of the Abbey nuns wrote about how the monastics at the Abbey do posadha, the fortnightly ceremony for confession and restoration of precepts. Read about it here.
Is organ donation okay? Read Ven. Tsepal's reply here in this "Ask a Buddhist" column on the SpokaneFāVs religious news website.
Upcoming Events
Here's what's happening online in the next few weeks:

Plus regular ongoing teachings:
Check the Abbey Events page for much more
[ad_2]